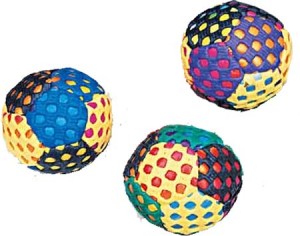 When I was an undergraduate student, I took a neuro-psychology course that required I learn how to juggle. Seriously, and I was graded on it! I was a little worried. I tried to throw all those bags up in circles and catch them and things just weren't working out. They dropped to the floor, went over my head, fell on friends' laps, and knocked over lamps.  Then someone who had the patience to read the instructions intervened. He figured it out and explained it to me and taught me how to juggle.
You see, the trick is to start with only one bag at a time. You toss it up in the air until it gets comfortable and almost becomes second nature. Then you add in another and do the same until it gets comfortable and you can pretty much do it without even thinking about it. Then you add in the third and voila, you're a juggler! Quite an amazing process it was when broken down. It didn't go down at all the way I thought it would.
A lot of things in life are like learning to juggle. At times it seems incredibly overwhelming and perhaps impossible, but you just start with one task at a time and then add another, one by one. Eventually, you'll be juggling almost effortlessly. Patience and gentle reminders to take it slowly are key. Delegation and help from others is a good idea too.
By the way, I passed the class with an A and I now know why I needed to learn to juggle. I'd like to give special thanks to my patient and clever friend, Tim, for his help.
Kristen A Tolbert is the Founder of Career CoLabs, Author of Careers Reinvented, and Co-Founder and Facilitator of Neuro at Work – Leadership and Workplace Intelligence Programs. Kristen specializes in Workplace Wellness and Satisfaction programs in her private practice. She utilizes Brain-Based science and strategies to assist organizations in becoming both high performing and healthy workplaces. Kristen's programs serve a global clientele via live seminars and in collaborative online classrooms. Learn more about her programs at careercolabs.com.